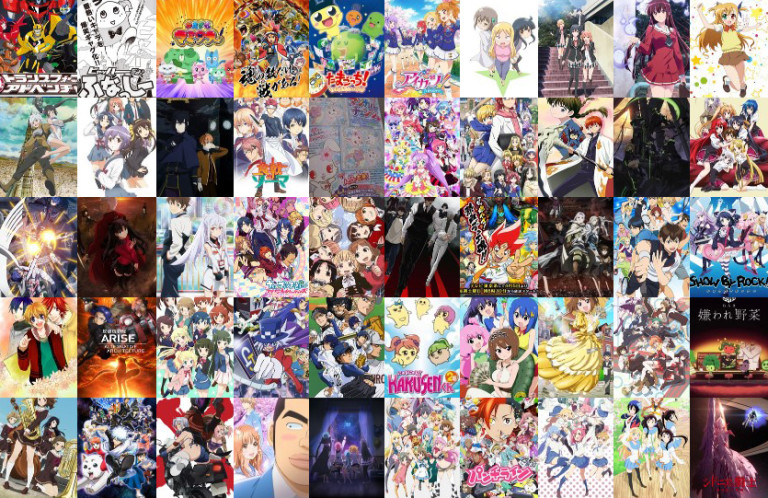 Next Season's Anime Is Going To Be BIG!
March 18, 2015 Nafuyaka 0 Comments
Okay, it feels like Winter was months ago, but Japan continues to insist holding the season on for just a few more weeks. That's why the Winter 2015 season of anime continues to drag on. Which isn't bad since there's so many good shows that are out today.
But spring is coming, and so too are all the new anime! And no doubt, it's going to be as good as last season was, if not better!
Just look at all these interesting shows that are coming out in Spring 2015!
1. Danna ga Nani wo Itteiru ka Wakaranai Ken 2 Sure-me
I have no idea what this show is about, but it has a long Japanese title so you better watch it if you take anime seriously!
2. Yahari Ore no Seishun Love Comedy wa Machigatteiru. Zoku
Another long Japanese title!? I think this is an anime about some guy in school. And there's also a bunch of girls. So this is definitely a must-see.
3. Denpa Kyoushi
Harem anime.
4. Kyoukai no Rinne
This is one of those types of series that normally tries hard to differentiate itself by having a 90s anime art style (aka looking ugly as shit). But apparently this show is actually aiming to actually look good so I would watch the first 5 minutes and then drop it if it looks bad.
6. Owari no Seraph
This show is literally Attack on Titan except vampires replace the giants.
7. High School DxD BorN
If you love eating shit, chances are you already have this show on your anime pick up list.
8. Gunslinger Stratos: The Animation
This looks cool, but it's based off a game so it's guaranteed to only get one season to promote the game which kind of makes me not want to watch it. Oh well.
10. Narudoma
This guy has a loli complex. Sounds like my type of guy! And that's not in a gay way. I'm only watching the show for the loli I swear!
11. Kekkai Sensen
This show is literally Attack on Titan if it took place in America.
12. Tesagure! Bukatsumono Spin-off Purupurun Sharumu to Asobou
I'm already going to watch this show and I have no idea what it's about. Huh.
13. Plastic Memories
Can you have sex with a robot? That's the question that this show wants to answer. Definitely a must watch.
14. Fate/Stay Night: Unlimited Blade Works (2015)
Why watch this when you could watch Prisma Illya instead? Hmm?
15. Grisaia no Meikyuu
This anime is fucked up. That's why I'm watching it.
16. Grisaia no Rakuen
This anime is fucked up. That's why–Wait I already saw this already!
18. Yamada-kun to 7-nin no Majo (TV)
I swear this is another harem anime, but I'm not sure so I'll just watch it and find out.
19. Ninja Slayer From Animation
From the creators of KILL LA KILL and TENGO TOPPO GURREN LAGOON, it's NINJA SLAYER. Yeah, you already know it's going to be a good one.
20. Houkago no Pleiades TV
aliens ayy lmao
21. Nisekoi:
There are two things in this world that I love the most. And that's head tilts and SHAFT shows. This show is no exception. If they get rid of that annoying blonde hair girl this show would be an absolute 10/10. But it's still worth a watch regardless.
22. Triage X
Now this is one of those shows that you can tell how good it is from one glance. And…yep. It's good. I mean look at THAT! If you aren't going to watch this show you are literally cancer.
26. Arslan Senki 2
This is the type of show that's really interesting for the first 3 episodes and then starts to drag it's feet and gets boring as fuck so you end up dropping it by the 5th episode. Which is too bad because the 6th episode was the best episode in the entire show!
23. Gintama` (2015)
I heard they're going to add some funny memes in this anime so yeah I'm going to watch it `
25. Ameiro Cocoa
HOLY SHIT look at that ugly art style. NO, do NOT watch this show! Aw man, this show probably is going to ruin the entire next season for everyone. Everything is going to suck now.
24. Hello!! Kiniro Mosaic
NEVER MIND I TAKE IT ALL BACK! THIS IS WHAT I AM TALKING ABOUT. ANIME OF THE SEASON ALL YEARS EVERY YEAR.
---
Wow! Amazing stuff is coming out next season! I just can't wait for this season to hurry up and die. Move out of the way gramps, it's time for the big kids to take over! But let's be serious for a minute. There's no doubt great things coming this spring, but if you think there's going to be so much good shows coming out this spring that it can't get any better, let me tell you about the summer season…